We invite you to learn more about St. Thomas Aquinas- New Hampshire's School of Excellence- so that you can be confident you're providing your child with the very best high school experience.
Visit Us!
Click the SignUpGenius link below to reegister for a school tour!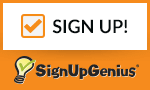 Getting Acquainted
As in any meaningful relationship, getting acquainted is an important first step. We believe that the admission process is an opportunity for us to get to know your child, so we can learn more about his or her unique gifts, skills, and interests. In each young person lies extraordinary potential and opportunity. At St. Thomas Aquinas, we delight in meeting each student and guiding him/her along his/her own unique educational path. We schedule a number of personal tours and infromation sessions for prospective students who wish to become better acquainted with St. Thomas Aquinas.
The Admission Process
St. Thomas Aquinas High School is not just a school—we're a family. As such, we hope you will find our admission process to be personalized and welcoming. This process is an opportunity for our staff to engage your child in conversation about how our high school can support, strengthen, and position him or her for a successful future. It is also an opportunity for your child to envision him or herself as an important and valued STA community member. Please take a moment to explore our website, read our stories, review our 2022-23 School Profile, see our seniors' colleges acceptances, and learn about tuition and tuition assistance.
Learn More Today
If the private high school education experience at St. Thomas Aquinas High School might be a good fit for your teenager, complete our Inquiry Form, call our Admission office at 603-742-1324, or email us at admission@stalux.org. We are open Monday through Friday from 7:30 a.m. until 3:30 p.m. Our summer hours are Monday-Thursday, 9:00am-3:00pm.
Admission Update, January 28, 2022
January is quite a busy time in the Office of Admission at St. Thomas Aquinas! This is the season where we spend nearly each afternoon meeting with prospective students and families on campus for campus tours, introducing them to faculty and current students, highlighting the great educational and co-curricular opportunities, and telling the story of this great community. We are also busy reading and reviewing applications for the incoming new and transfer students, making decisions, and preparing accepted student packets to be mailed to the newest Saints. It's an incredibly busy and joyful time, as we get to be a part of these young students' educational journey, and it is a privilege to help shape the Class of 2026, filling our hallways with bright and motivated students, talented athletes, artists, and musicians, budding entrepreneurs, and students looking for a dynamic and challenging high school career.
Our message to these students is both simple and profound: we are a caring community that infuses an academic tradition of combining Faith and Reason, given to us by our namesake Thomas Aquinas, with countless opportunities to grow spiritually, athletically, intellectually, and artistically. Our focus is on the balance between strong, robust outcomes with the journey of these four years, being mindful that each day is both a moment of growth that culminates with preparation for life after graduation. This story is on display during every tour, every admission event, and every piece of communication that comes from the Office of Admission. Our interest in each student is reflected in the highly personalized attention provided on these individual tours and in how we review applications. It is more than just the student; the process provides an opportunity to learn about the whole person-their strengths, their talents, and what contributions that will be able to make to the STA community. With this prospective in mind, coupled with some of the challenges posed by the pandemic, St. Thomas Aquinas has adopted a "test-optional" admission policy. We have always, and continue to, thoroughly looked at three years of grades from the transcript to learn about areas of strength, perceive patterns and trends, and get the best sense of the student, while also carefully considering their interests and experiences outside of the classroom. Teachers and school counselors take the time to write letters of recommendation—each applicant provides a total of three from their current school—to provide context and insights that help us paint the fullest picture possible. Each student that is admitted to STA receives a personalized letter inviting them to join this wonderful community and contributing to our School of Excellence.
Our proud alumni, current students, and their families provide the best examples of the value of an STA education. The great work and exciting times on our campus today happen because we stand on the shoulders of giants, and we strive to carry this great school forward. As you share your own STA story with those you see, encourage them to contact us to see what's happening at 197 Dover Point Road today—we look forward to seeing them and you on campus!
~Dr. Danny Richer, Dean of Admission and Advancement
NOTICE OF NONDISCRIMINATORY POLICY AS TO STUDENTS
St. Thomas Aquinas High School admits students of any race, color, national and ethnic origin to all the rights, privileges, programs, and activities generally accorded or made available to students at the school. It does not discriminate on the basis of race, color, national and ethnic origin in administration of its educational policies, admissions policies, scholarship and loan programs, and athletic and other school-administered programs.
We are pleased to have Rebecca on the door step of St Thomas Aquinas. Her older sisters' successes in their first years of college has been great confirmation that their education at STA was worth their effort and our dollars. STA undeniably prepared our daughters with a strong academic foundation, but also supported and molded their personal growth in character and faith. They entered college with a strong sense of self, an understanding of their place in the world, and a drive to contribute to whatever community they find themselves a part of. We look forward to Rebecca growing into her adult-self with these same cornerstones of life. -Mrs. Jeannie Spear, Portsmouth
-------------------------------------------------------------------------
St Thomas Aquinas has provided a strong foundation of education, faith and respect. The class size and dedication of the teachers create a positive learning environment that truly helps every child to succeed. STA has exceeded our expectations and has lived up to its mission in every way. - Paula Kuselias, North Hampton (Mother of Ella '21 and Katie '23)
Our family chose St Thomas Aquinas for its academic rigor, strong collaborative culture, and wide array of student activities. We didn't quite realize at the time that it was so much more. The motto of Lux in Tenebris (Light in Darkness) seems to drive every facet of planning for and interacting with students.
St. Thomas Aquinas staff meet the youth who enter its doors with enthusiasm and encouragement for the unique individuals that they are. The engagement with students is authentic, genuine, positive, and consistently encouraging. The result is seen so very clearly in how these young men and women treat each other and the confidence they have as they prepare to enter the next chapter in their lives.
Through academics, sports, clubs, Winterterm, class speeches, and so much more, the young men and women truly become Lux in Tenebris. It is not just a catchy school motto, it is a mission statement for the youth who graduate. We are truly humbled and profoundly blessed to have been part of it.
~Chanel and Rick Toracinta